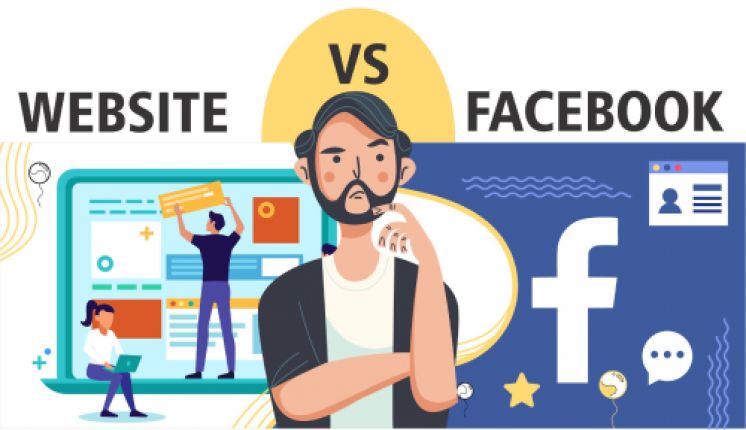 4 Reasons Why A Website Is Better Than A Facebook Page
Facebook's business page services are incredibly appealing to small business owners. Firstly, they require no knowledge of user interface design, or worse — coding. Secondly, Facebook comes with a well-established user base of several million potential customers.

Lastly, and perhaps most importantly for small to medium-sized business owners, all of these benefits are free. What's not to like?


Well, a number of things.

1. Not all of your customers have a Facebook account
While many of your customers are going to have a Facebook account, a fair number of them will not. Less technologically savvy customers, for example, are less likely to have a Facebook account than customers who have spent most of their lives in front of the screen.

Growing privacy concerns are giving younger users second thoughts about Facebook's platform, too. According to a 2018 Pew survey, up to 44 percent of Americans aged 18 to 29 deleted Facebook's app from their phones in 2017.

At only 3,400 of Facebook's 200+ million-strong user base in the U.S. alone, Pew's sample size was too small to spell the end of the social media giant's prominence any time soon. All the same, Pew's results are still evidence enough that American consumers are slowly but surely adopting their European peers' views towards the safety of their personal information online. Thus, small to medium businesses risk alienating potential customers when they limit their online presence to Facebook only.
2. You have to play by Facebook's fairly strict rules, and it's not a level playing field
Besides alienating potential customers, revolving your online business entirely around Facebook also puts your business at Facebook's mercy.

If enough users were to abandon Facebook and force Facebook to shut down as a result, then your online presence would go with it. Therefore, having your own website as a backup is always a good idea.

In addition to serving as a backup, having your own website also grants you full ownership over the page. Full page ownership is important because you can design it according to your business' mission and values, not Facebook's.

For the sake of retaining their own customers, Facebook requires that all businesses abide by their values. These values are outlined in a strict set of guidelines for advertisements and business pages. Violations of these regulations can also result in your ad or page being shut down by Facebook, and sometimes without warning.

Business owner John Nemo discovered this the hard way when Facebook suddenly deleted a fan page that he was maintaining. Despite having been on the platform for years and pouring thousands of dollars into Facebook's advertising platform, Facebook gave him "no warning or opportunity to fix whatever was wrong with [his] page — it was simply gone."

While many website hosting platforms have guidelines of their own, they're often less strict than those of social media platforms like Facebook. As a result, your page is much less likely to be deleted without your explicit consent.
3. You're not wasting your branding investment
Ownership of your business page affects more than just the control you have over your page. Full ownership of your business page affects your branding, too.

Whereas an individually hosted website lets you customize every element of your page, Facebook only allows you to change your page's content. This limitation severely detriments your branding because it means that your business page looks just like everyone else's. This includes your direct competitors' pages.

Consequently, having your own website is important to standing out against your competitors in the digital world because website designers small business can design your page according to your brand's image and not Facebooks.
4. You can optimize the way your site looks in Google
An additional constraint of Facebook's business page service is the way your site appears in Google search results.

Google search results for Facebook pages often prominently display your business' name, address, and a snippet of reviews that customers have left on your page.

However, Google tends to ignore the information that you provide in your business' About section. The only way that Google users can learn what industry your business falls under is either in your page's title, or through a category that Google displays

By the way, that category text is tiny and grayed out. In other words, Google users are going to have to put in more effort than they'd probably like to learn what your business is all about.

But why does the way your site appears in Google search results matter?

Because Google is most likely how your customers that aren't using social media are going to discover your business.

It goes without saying that Google is one of the most visited websites in the world. Google receives nearly 46 million visitors each month. Google owes much of its traffic to the quality of its results and its simple user interface. These two factors alone ensure that Google's customers receive search results that are easy to scan for relevance.

Besides providing a top-notch user experience, Google also commercially sponsors the Android operating system. Android was used by 1.6 billion people in 2019, and that number is only increasing. Therefore, ranking highly in

Google is so important to the Internet's development that the word "Google" is now short for "using a search engine." The prestigious Oxford English Dictionary even added the word "Google" to its lexicon in June 2006. Thus, ranking highly in Google search page results is incredibly important for owners of small to medium-sized businesses.

The best way to ensure this is by having a personal website. Unlike a Facebook page, a business website allows business owners to optimize their content for Google. Common methods for optimizing a website's Google ranking include the page's title, the page's meta description, and of course, the content of the page itself.

While they sound simple enough in theory, the increasing importance of an online presence for businesses has heightened the competition for a good page ranking on Google. Small business web design agencies frequently include SEO services in their packages for this reason.
So, which should you choose? Facebook or your own business website?
Although Facebook's business page services have a lot to offer, they're not the only basket that small business owners should put their eggs in. In this day and age, having a website of your very own is just as, if not more important than ever. What's more, professional website designers small business are happy to develop and maintain pages on your behalf. While the service will cost you, the payoffs of small business web design services will be much greater than "leasing" a space on Facebook — especially as the battleground over users' rights to their personal information continues to gain traction and threatens all the work you may be thinking of investing into that Facebook page.
eComp Marketing offers complete web design services for small businesses. If you're interested in learning more, please
reach out
to us for more information.